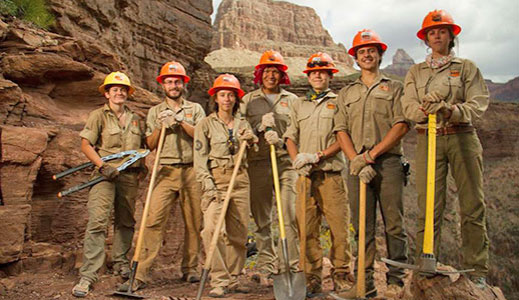 Exciting, challenging, rewarding — there is no one word to describe participating in an AZCC project. You'll learn, but it will take sweat. You'll complete great service projects, but it won't always be easy. You'll meet some great people, but you won't always see eye-to-eye. It's about learning, working hard for the environment and communities, and giving something back.
My time at AZCC so far has significantly impacted who I am as a person, how I relate to others, and how I view my life and the world around me. AZCC has shaped all of these aspects in the most positive and unexpected ways. The hard work and the way this program forces you to step outside your comfort zone constantly is very unique to find in a job. AZCC has a way of making you do things that you think you can't, this realization is incredibly valuable and can be taken with you long after your time at AZCC is over. –Marina M., Corps Member
AZCC provides the opportunity to serve communities and the environment in seasonal positions working on conservation projects across Arizona and the Southwest.
Typical projects include:
• Trail Maintenance & Construction
• Community Service
• Watershed Restoration
• Desert Restoration
• Tree Planting and Seeding
• Route/Road Closure
• Invasive Species Management
• Citizen Science
• Fence Construction/Maintenance
• Fire Rehabilitation
• Fire Fuels Reduction/Mitigation
• Historic Preservation
• Inventorying and Mapping
• Parks/Campground Maintenance
• Disaster Response
• Water Conservation
Local Urban Crews
Location: Tucson, Phoenix and Safford
Living Allowance: $275/week
Age Requirements: 18-25 years
Dates: 12-24 weeks with start dates in January, March and August
Local Urban Crews provide members with conservation and job skills, leadership opportunities, challenging project work, personal and professional development as well as financial support for educational expenses.
Summer Youth Crews
Location: Flagstaff, Williams, Fredonia and the Verde Valley
Living Allowance: $275/week
Age Requirements: 17-18 years
Dates: 7 weeks beginning in mid-June
The Youth Conservation program introduces Corps Members to community service and resource conservation through hands-on project work with a variety of land management and community partners. Crews will complete general conservation work on public lands such as trail maintenance and construction, fencing, invasive weed removal and surveys.
AmeriCorps Conservation Camping Crews
Location: Throughout Arizona and southern New Mexico
Living Allowance: $275-$600/week
Age Requirements: 18-25 years
Dates: 12-24 weeks with start dates in January, March and August
AmeriCorps Conservation Camping Crew programs engage motivated young adults to complete challenging and impactful conservation and service projects. These crews camp and work together for up to 11 days in the field. Positions include Crew Members, Assistant Crew Leaders and Crew Supervisors.
AmeriCorps Individual Placements
Location: Across Arizona
Living Allowance: $300/week
Age Requirements: 21+ years
Dates: Various
AZCC engages individuals in positions with federal, state and local management agencies and environmentally focused non-profits.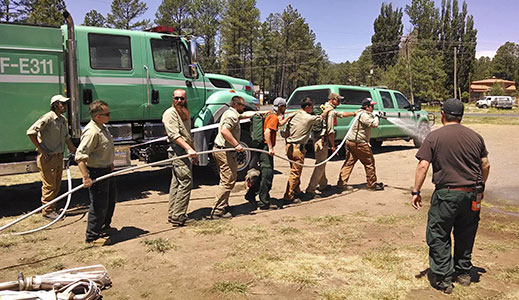 Veterans Fire Corps Crew Members
Location: Tucson
Living Allowance: $375/week
Upcoming Dates: September 2016–March 2017
The Veteran Fire Corps program aims to retrain recent era military veterans for careers in conservation, fuels management, and wildland fire-fighting. VFC programs accomplish this goal by immersing participants in a conservation crew experience. Over the course of a typical 3–6 month season, VFC Crew Members receive training in wildland firefighting, chainsaw operation and a variety of other topics. Members then go on to serve as members of a fire-fuels conservation crew, performing a variety of forestry and conservation work on Bureau of Land Management, National Park Service, and US Forest Service land in Arizona and New Mexico. At the conclusion of a program members are aided in the transition to federal wildland firefighting jobs.
Spending these days with my crew showed me that despite our differences, whether it be social, cultural or financial, we can do whatever it takes to accomplish different jobs successfully. No one person is too big or too small. –Veterans Fire Corps Member