What You'll Be Doing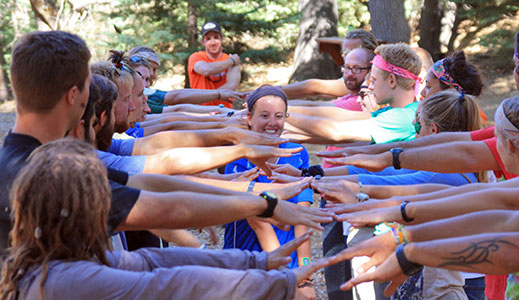 Outdoor Education Instructors
As a Pali Institute Outdoor Education Instructor, you will have the opportunity to teach, facilitate and mentor groups of students each week. Most weeks Instructors teach an activity group during the day and then take on the role of cabin instructor with responsibilities during meals and at night.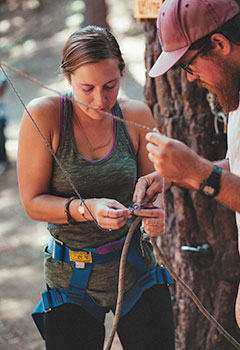 The science curriculum covers a broad array of topics such as alternative energy sources, squid dissection and herpetology. With California's seismic history in mind, Instructors test the strength of student's engineered structures. Students also learn about aerodynamic principles as they build and launch rockets. Personal and social growth is fostered and encouraged with the help of team building sessions, the low ropes course, three high ropes courses and quad zip lines.
When the sun goes down, both Instructors and students perform skits, learn about crepuscular animals while using their senses on a night hike, or turn up the music as the students perform karaoke. In addition, students are able to gaze into the night as they learn about stars, planets and the galaxy their on way back to cabins. During cabin time, Instructors can customize the students' free time, gearing activities or relaxation time towards sharing personal passions like music or art, or adventuring out to play games during an exploratory hike.
By the end of the week, you are able to reflect on both the rewards of working with children and teaching in the outdoors.
When not in cabin, Pali Institute offers seven off-site houses for staff to reside in. With an extensive training period where curriculum is showcased and discussed, local ropes procedures are trained, and team building is not only taught, but enjoyed—a family culture emerges each season. You will meet some of the closest friends you will ever make while working and living with other light hearted and fun individuals.
Come expand your network with Pali staff members from all over the United States.
Location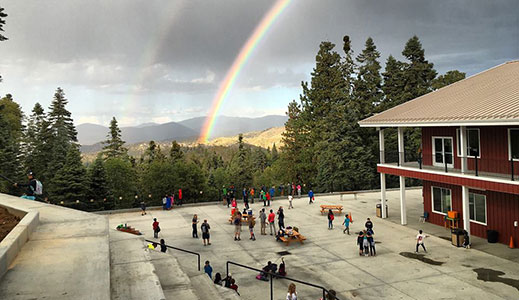 Live the Southern California Lifestyle!
Pali's campus is spread over 74 acres of pine and hardwood forest with views of surrounding peaks. Located in the San Bernardino Mountains of Southern California, the region offers just about any type of outdoor recreation adventure and endless places to explore. In the winter months you can go snowboarding in the morning and surfing in the afternoon. Within hours of Pali you can find Joshua Tree National Park, Big Bear Lake or the Pacific Ocean. While up on top of a mountain in a small community of about 5,000 you are 30 minutes from San Bernardino and 2 hours from Los Angeles.
Season Commitment
2018 Season Employment Dates
• Spring: early January to early June
• Fall: mid-August to mid-December
Mid-season start date work options and shorter-term contracts are possible.
This is a full-time residential position Monday through Friday with hours scheduled according to group attendance and additional duties as assigned. There are a few weekends with schools booked as well as opportunities for conference work.
While 75-80% of the time will be spent in cabin, Instructors have the majority of weekends off—allowing for ample opportunity to explore the immediate area or further away destinations. With city life bustling below, lakes nearby, plenty of trails to explore, and great climbing opportunities only minutes away, there is no lack of recreation to be had on free time. Small town living in the San Bernardino Mountains also provides a cozy retreat from the inland empire, and other large metropolitan areas.
Perks & Rewards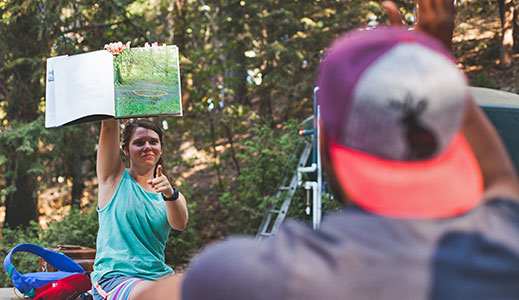 On the Job Training!
With a comprehensive training period, opportunity to shadow classes, feedback via observations and advisory groups—Pali staff can take their camp and life skills to a new level. Every day is an opportunity to work with a diverse student body and in many different capacities. You will learn how to facilitate ropes courses, team building, debriefings and teach science classes. On top of the science, leadership and outdoor education, you will also enjoy some conventional camp fun. You'll sing songs, tell stories, participate in variety shows, watch movies and play field games. The great thing about Pali is the dynamic nature of the Instructor position. With well-rounded experiences throughout the season, you will gain valuable competence for future endeavors.
Compensation includes a weekly base rate with an extra $25 for each night in cabin (an advanced degree or teaching certificate considered for extra pay), fully furnished off-site housing with WiFi and laundry for weekend and out-of-cabin use, meals starting at breakfast on Monday and ending at lunch on Friday, 50% of health benefits after 90 days and pro-deal purchases.
The Essentials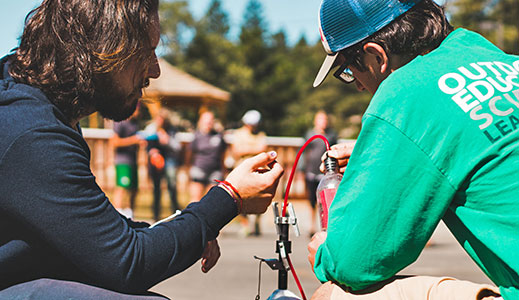 Are you the right fit?
Applicants with a Bachelor's degree or those with extensive experience in the camping and/or experiential education fields are preferred. Must be comfortable and confident supervising and teaching students in large and small groups and able to have fun with kids, laugh at your self and be silly.
While past experience is preferred and pivotal to the program, someone with the right skill sets and motivations can often be an asset to the Pali team.
Ideal applicants have a passion for teaching, enthusiasm, initiative, patience, a good sense of humor and are flexible, team players, growth oriented, active and physically able to complete all tasks associated with the job (hiking, belaying, working long hours…).
Your First Move & Connections
Applications are accepted on a rolling basis until all positions are filled. Make sure to attach your resume and cover letter to the online application. Feel free to follow up on your application by reaching out to hiring@paliinstitute.com.
Winter/Spring Season Job Openings


Now seeking Outdoor Education Instructors to work through early June (with mid-season start date work options).
Hiring Team
Pali Institute
30778 Hwy 18
P.O. Box 2237
Running Springs, CA 92382
(909) 867-5743 ext. 241
(909) 867-7643 fax
hiring@paliinstitute.com
PaliInstitute.com

Meet the Pali team »
---
---
---