Do you like a lot of sunny weather? Or, perhaps, want to live in a college town? FindYourSpot.com provides an online quiz that focuses on the issues that are really important to you—from climate and recreational activities to religion and community resources. Once you've completed the quiz, a tailored list of the best cities and small towns is displayed.

Are you looking for a community that encourages its residents to cycle for recreation, fitness and transportation to work or the local market? The Bicycle Friendly Community campaign offers community profiles of the best cycling cities in the U.S.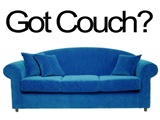 Need a place to crash? Try a Stranger's Couch.

Or perhaps you're a touring cyclist in need of hospitality? Check out WarmShowers.org

If you ever imagined stepping into a simpler lifestyle, without the worry of rent or making a living, check out the opportunities listed in The Caretaker Gazette. This unique bi-monthly newsletter provides listings for caretaker and house sitting positions worldwide.