Crew Leader
Location: Regional offices in Salida and Durango CO; work throughout the Four Corners region
Stipend: $10-$13/hour DOE/DOQ
Ages: 21+
Dates: Late March to late November, 2018
Southwest Conservation Corps' Crew Leaders perform many roles and are the key to the program's success. The position is also multi-faceted and demanding, but with opportunity for enormous rewards. Successful candidates will demonstrate high standards, compassion, excellent judgment, and the desire to devote themselves (at least seasonally!) to youth and the environment. The Crew Leader position requires both supervisory and technical aptitude, and a high level of comfort in the outdoors.
Crew Leader Development Program
Location: Program based in Durango, CO
Living Allowance: $375/week + an AmeriCorps education award of $2,887 at the end of your term of service
Ages: 21+
Dates: April through November, 2018
The focus of the Crew Leader Development Program (CLDP) is leadership, Corpsmember development, and conservation skills over a six-month period. During the first phase, participants are placed as Corpsmembers where they will work and learn conservation skills with experienced crew leaders on conservation projects in CO and NM. While gaining valuable conservation skills, CLDP members will learn outdoor leadership and mentorship skills. During the second phase, CLDP members will be placed in leadership opportunities that may include positions on conservation crews, youth crews, specialized technical crews and/or individual projects.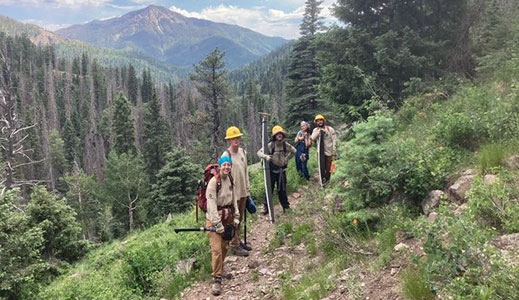 Conservation Crew Corpsmember
Location: Regional offices in Salida and Durango, CO
Living Allowance & Benefits: $275/week, AmeriCorps education award, WFA certification, chainsaw training, and food and personal protective equipment provided during work time
Ages: 18-26
Dates: June–November (varied start/end dates)
Conservation Crew Corpsmembers will complete projects that may include trail construction and maintenance, fencing, habitat improvement, hazardous fuels reduction and re-vegetation. Each crew consists of six members and two leaders. Crews work and camp for eleven days at a time in frontcountry and backcountry locations in all types of weather conditions and at a variety of national parks, national forests and other areas throughout the Southwest. Crews prepare all their own meals and work together as a group to complete all the necessary chores.
Veterans Fire Corps
Location: Based out of Salida and Durango, CO; work throughout the Four Corners region
Living Allowance: $460-$600/week (Leaders); $375/week + $2,182 AmeriCorps education award (Corpmembers)
Ages: 21+; must be a military veteran
Dates: April–September/December (Leaders); April–September and August–December (Corpsmembers)
Veterans Fire Corps provides purposeful service and training opportunities for current era veterans interested in gaining experience in natural resource and wildland fire careers. The program engages veterans to work together on crews completing natural resource management projects, fuel reduction, fire mitigation and other fire-related projects on public lands. Project work and schedule will vary depending on region and season. Training will focus on gaining conservation skills and career development services for veterans interested in pursuing employment opportunities with land management. The program provides training opportunities and contact with future employers for current era veterans who are transitioning from the military to jobs and opportunities in the civilian sector. Crews are generally comprised of individuals 21-35 years of age looking to work in Wildland Fire.
Ancestral Lands Interns & Crew Members
Ancestral Lands engages Native youth and young adults in meaningful conservation projects on Native Lands. With programs in Acoma Pueblo, Navajo Nation, and most recently Zuni Pueblo, Ancestral Lands crews have been working on projects from historical preservation, traditional agriculture, chainsaw crews, hiking clubs, stream restoration, fencing, trail construction and more. The Ancestral Lands program also aims to incorporate traditional culture and language as part of crew lifestyle and project work.