Adult & Youth Crew Leaders
Work with middle school and high school youth and/or young adults ages 18-25.
Term: April 2nd – late November 2018
Wages: $460-$600/week DOE/DOQ
Health Benefits: Health benefit eligible, 5 days PTO (structured in August) and 5 days of discretionary time
Other Benefits: Food provided while in the field, uniforms, protective equipment, U.S. Forest Service recognized S-212 Chainsaw training (certificate awarded upon completion of program), and continued development opportunities
Crew Leaders perform many roles and are the key to our program's success. The position is multi-faceted and demanding, but with opportunity for enormous rewards. Successful candidates will demonstrate resourcefulness, effective communication skills, excellent judgement, maturity, initiative, professionalism, and the desire to devote themselves to a crew experience where the needs of others are placed above oneself. The Crew Leader position requires, mentorship, patience, technical aptitude, focus on efficiency, and a high level of comfort in the outdoors. Crew Leaders are ultimately responsible for successes and short-comings of the crew.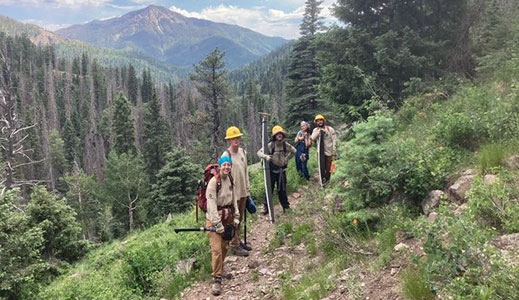 Crew Leader Development Program
Gain leadership and conservation skills alongside a mentor as you work with youth and/or young adults.
Term: April 2nd – late November 2018.
Wages: Living stipend of $375/week with a $2,907 AmeriCorps education award upon successful completion of the program
Benefits: 5 days PTO and 5 days of discretionary time. Food provided while in the field, plus uniforms, protective equipment and U.S. Forest Service recognized S-212 Chainsaw training (certificate awarded upon completion of program).
WFR: CLDP Members will also be provided with Wilderness First Responder/CPR/AED training. There will be a WFR course available in Durango from March 23rd–30th through Desert Mountain Medicine. Other acceptable WFR courses and recertification courses can be reimbursed, but must be taken prior to the start of the season.
The focus of the Crew Leader Development Program (CLDP) is on leadership, Corpsmember development, and conservation skills. During the first phase, participants are placed as Corpsmembers where they will work and learn conservation skills with experienced crew leaders on conservation projects. While gaining valuable conservation skills, CLDP members will learn outdoor leadership and mentorship skills. During the second phase, CLDP members will be placed in leadership opportunities that may include positions on conservation crews, youth crews, specialized technical crews and/or individual projects.
Conservation Crew Corpsmembers
Work effectively as a member of a team despite potentially stressful and difficult conditions.
Term: May 28th to mid-August or mid-November depending on position
Living Allowance & Benefits: $275/week, AmeriCorps education award, WFA certification, chainsaw training, and food and personal protective equipment provided during work time
Ages: 18-25
Conservation Crew Corpsmembers will complete projects that may include trail construction and maintenance, fencing, habitat improvement, hazardous fuels reduction and re-vegetation. Each crew consists of six members and two leaders. Crews work and camp for eleven days at a time in frontcountry and backcountry locations in all types of weather conditions and at a variety of national parks, national forests and other areas throughout the Southwest. Crews prepare all their own meals and work together as a group to complete all the necessary chores.
Veterans Fire Corps
Work with post-9/11 military Veterans as a Leader and help them train and prepare for careers in wildland fire fighting or gain on-the-job experience as a Crew Member.
Term: Various start/end dates from late March to mid-November depending on position
Living Allowance: $520-$600/week DOE/DOQ plus health benefits and paid time off (Leaders); $375/week + $1,538 AmeriCorps education award (Corps Members)
Additional Benefits: Food provided while in the field, uniforms, protective equipment, wildland fire certifications and trainings
Veterans Fire Corps provides purposeful service and training opportunities for current era veterans interested in gaining experience in natural resource and wildland fire careers. The program engages veterans to work together on crews completing natural resource management projects, fuel reduction, fire mitigation and other fire-related projects on public lands. Project work and schedule will vary depending on region and season. Training will focus on gaining conservation skills and career development services for veterans interested in pursuing employment opportunities with land management. The program provides training opportunities and contact with future employers for current era veterans who are transitioning from the military to jobs and opportunities in the civilian sector. Crews are generally comprised of individuals 21-35 years of age looking to work in Wildland Fire.