What You'll Be Doing
The Sherman Lake YMCA Integrated Education Program is a one-of-a-kind experiential education program that believes in innovation and making a difference in children's lives. Become part of a staff that believes in living and teaching how to live an honest, caring, respectful and responsible life. Integrated Education Instructors will use an experiential and character-based curriculum to deliver 3-5 day programs for local area schools.
Key Instructor responsibilities include:
• Setting up an overnight cabin group of students (primarily with 5th through 8th grade students) from beginning to end using tools like community commitment, team building games, and bag of tricks to create a great experience for every student.

• Providing positive reinforcement, character education integration, and a strength-based approach to program delivery and conflict resolution.
• Facilitating Integrated Education activities that include the indoor climbing wall or outdoor climbing tower, team building and group initiatives (putting kids in situations where they have to work together and problem solve to be successful), orienteering, art (there's a great studio with arts and crafts supplies galore), archery/mineshaft, canoeing, kayaking, swimming (in Sherman Lake or the beautiful indoor pool), fire building and outdoor cooking, group games, nature education, tree climb (up 32 feet, in a mighty oak tree, a platform rests as the ultimate goal for this activity), indoor and outdoor low/high ropes course, and the giants swing, ladder and power pole (great activities for goal setting, perseverance, success and independent decision making). And don't worry if you're not proficient in a certain activity. Training will be provided so you'll become a master Instructor!
Instructor Performance Objectives:
• Connect with each camper quickly and make campers feel welcome and included.
• Participate 100% in activities and enjoy playing and role modeling.
• Recognize and effectively resolve conflicts based on camp values and procedures.
• Seek out and use camp resources to create meaningful experiences.
• Work proactively with campers showing spontaneity and creativity.
• Create a safe environment and unique experiences.
Time Commitment


Positions are available during the spring (late January to early June) and the fall season (early September to mid-December). Staff will need to be available Monday through Friday, days and overnights.
Integrated Education
The award winning Integrated Education School Camp Program combines emotional intelligence and social skills to foster an aptitude and attitude for constructive accomplishment. It is a place where kids want to come, want to grow and want to be a positive part of the world around them.
These programs strengthen participants by teaching the worldwide values of honesty, caring, respect and responsibility in an asset-rich environment using positive role model Instructors who are well versed in teaching life skills, who use nature and experiential activities to support these important lessons.
Teachers also benefit from participating and receive training to integrate these learning methods taking them from camp to classroom for ongoing impact. It is the perfect addition and support to a teacher's own undertaking at their school.
Location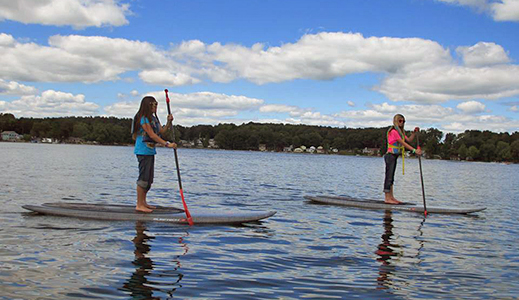 Sherman Lake YMCA is located on 365 acres of forested woodland and waterfront in Augusta, Michigan — near bustling Kalamazoo and the spirited Western Michigan University college town. The Recreation Center sports a fitness center, indoor pool, climbing wall, indoor high ropes course and gymnasium. The campus includes a chapel, nature center, art studio, leadership lodge, two waterfronts, acres of playing fields and two villages.
Your Challenge & Rewards
Working at camp is truly one of the most challenging and rewarding opportunities you will ever experience. Sherman Lake YMCA staff model the behaviors of a well-rounded lifestyle, values, performance objectives and philosophy. The Sherman Lake YMCA team is looking for individuals who are excited by the opportunities and undeterred by the challenges of the work, who want to share their talents and experiences with kids and fellow staff, who want to support the teamwork that makes Sherman Lake YMCA special and will project that support by your own example, and who want to experience a lifetime of growth and personal accomplishment!
Compensation ranges from $60-$75/day, and includes room, board and YMCA membership during time of employment. This is a great opportunity for individuals (18 & older) who are interested in working with youth and educators in the recreation field.
Connections & Application
Annual staff canoe trip down the Kalamazoo River.
If you are looking to broaden your teaching strategies outside of the classroom setting and believe in a student-centered program, fill out the online application or email Karen Christopherson for more information.

Karen Christopherson
Associate Camp Director
Sherman Lake YMCA Outdoor Center
6225 North 39th St.
Augusta, MI 49012
(269) 731-3041
(269) 731-3023 fax
karenc@ymcasl.org
ShermanLakeYMCA.org
---
---