House Advisors/Crew Leaders
House Advisors/Crew Leaders
House Advisors/Crew Leaders live and work alongside residents, leading the wide variety of tasks that keep the Ranch running through every season of the year: care of the farm animals, working in the garden, bringing in hay, shoveling snow, chopping wood, pressing apple cider, cutting ice from the lake, building furniture, producing maple syrup, clearing trails, and helping with the ongoing tasks of cooking, cleaning, sewing, and repairing. They plan and participate in a variety of fun activities and trips that continually enrich community life. House Advisors also serve as mentors to residents in their recovery of esteem, direction, and well-being. In general, there are twelve House Advisors working in seven cottages, supervising from two to nine residents.
Most people who have worked in the Ranch community have found the experience both physically and emotionally demanding. Unlike many institutions for the chronically ill, the Ranch program has little structure or job description and demands flexibility and spontaneity from its staff. But, more importantly, Ranch life is intensely rewarding. Helping people work through the debilitating problems that have interrupted the normal progress of their lives, learning new skills every day, and being a member of a caring community are what make the Ranch experience as deeply fulfilling as it is unique.
Learning More About Living & Working at the Ranch
• Perspectives from House Advisors
• The Shadow Warriors of Spring Lake Ranch
• Explore the latest news »
The heart of the community experience is people sharing their lives, struggles, achievements, hopes and dreams with each other in authentic, non-judgmental, and deeply respectful ways.
Location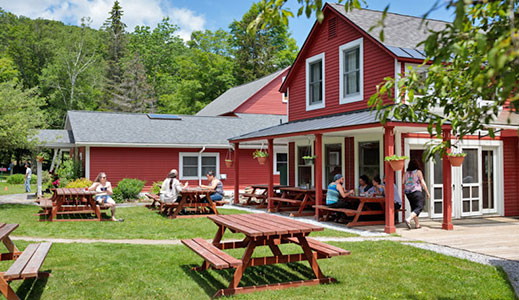 The Ranch is situated on 700 acres of farm, forest, and pastureland in Vermont's Green Mountains. The woods are crisscrossed by various hiking trails, including the Appalachian Trail, which crosses the property near Spring Lake, one of the quietest and most pristine lakes in Vermont. The Ranch is convenient to Rutland, and to several downhill ski resorts (including Killington and Okemo mountains) and Burlington is an easy day trip away.
Perks & Rewards
Benefits include $327/week, private accommodation within a Ranch residence, all meals, full health and dental insurance, two weeks paid vacation and sick time in the first year, educational opportunities, and use of all Ranch facilities including: laundry, linen service, woodshop, auto shop, pottery studio, computers, hiking/ski trails, and lake front with private dock and canoes.
There are also the many less tangible benefits that come from living and working in a close-knit community.
The Essentials
Applicants must be 20 years of age or older, and show a willingness to share life with a community of diverse people. Patience, creativity, flexibility, and an eagerness to teach and to learn are key. A basic knowledge of and experience in farming, gardening, carpentry, cooking, sewing, auto mechanics, landscaping, and recreational skills are not necessary but can be very helpful.
A minimum six-month commitment is required, though many House Advisors opt to stay longer.
Your First Move & Connections
To begin the application process, email your resume and cover letter to Mary Mitiguy. A 48-hour visit to the Ranch is required, usually preceded by a phone interview. The Ranch offers a rolling application and interview process, and often hires several months in advance.

---
---