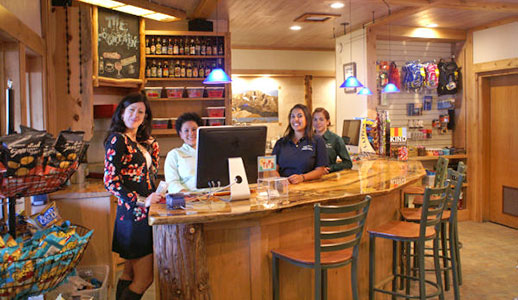 Every spring and fall, Stanford Sierra Conference Center forms a tight-knit community in their beautiful mountain environment. Staff Members will have the opportunity to work and play hard, make new friends and help guests enjoy their stay. Visit detailed job descriptions and the Conference Center Staff site so you can learn about pretty much the best job ever!
Spring & Fall Job Openings | 3-Season Job Openings
General All Purpose Staff
Duties include housekeeping, dining room food service (including setting tables, serving guests plate and buffet-style meals, bussing tables, washing dishes, and providing excellent customer service to guests), and general cleaning of the facility. Staff may also be assigned to do airport shuttling, boat checkout, running errands, groundskeeping, selling sundries, and a variety of special assignments. The job requires a professional demeanor and a commitment to excellent service. Shifts are spread throughout the day, and schedules change daily to accommodate the needs of each conference. All Purpose staff work 30-40 hours per week, and comprise the majority of seasonal employees.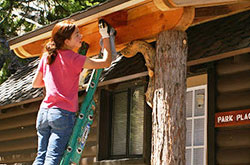 Housekeeping/Grounds Crew Leaders
Duties include daily cabin service, lodge maintenance, and complete cabin turn over between conferences. Crew leaders coordinate and provide guidance and direction to fellow staff members during housekeeping shifts, assist with general facility and grounds maintenance, and conduct daily trash and recycling collection. Applicants should be physically fit and able to work on their feet for long periods of time, lift and carry supplies, and work quickly and efficiently. The job requires professional guest service skills, ability to work in small teams, initiative, and detail-oriented work habits. Approximately 30 hours per week are housekeeping/grounds work and 5-10 hours per week are filled with general All Purpose shifts.
Kitchen Staff
Duties include food preparation, buffet and salad bar set-up, inventory rotations, and kitchen sanitation. Dinner is either plated by Kitchen staff or served buffet-style. Prior culinary experience is helpful but not mandatory. The schedule is normally split into two shifts per day. Kitchen staff will work 30-40 hours per week.
Assistant Dining Room Managers
Responsible for the appearance and smooth operation of the dining room in the absence of the Dining Room Manager by providing guidance and direction to Dining Room Servers and All Purpose staff during set-up, service, and clean-up. Other duties include typical dining room functions, such as table set-up, serving guests, and bussing tables. Dining room or restaurant experience is very desirable as are leadership skills. The job requires a professional demeanor and a commitment to excellent service. Approximately 30 hours per week is spent in the Dining Room and 5-10 hours per week is directed toward All Purpose shifts.
Nightwatch Relief
Works three days of All Purpose shifts and conducts Nightwatch duties two nights a week from 10 p.m. to 6 a.m. Night responsibilities include upholding the quiet hours policy, cleaning the Lodge, setting meetings rooms, making security walks around Camp, and responding to any guest needs at night. The job is labor-intensive, solitary and involves frequent lifting. Ability to work with minimal supervision, diplomacy with guests and staff and attention to detail are essential. The Nightwatch Relief works 30-40 hours per week.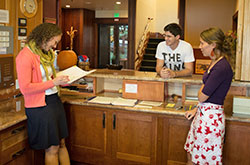 Office Assistants
Perform general clerical and front desk duties in and around the Front Office, assists regular Office staff with guest relations, and helps to monitor Camp operations and troubleshoot any issues that arise in the evening hours. Must have decision-making abilities, communication skills, and a professional demeanor. Good computer skills and public relations experience are essential; knowledge of audio-visual equipment is a plus. Individual spends approximately 30 hours per week in the Office and 5-10 hours per week doing general All Purpose shifts.
Breakfast/Lunch Cook
Normally a 3-season assignment, the Breakfast/Lunch Cook is a lead cook responsible for producing all breakfast items and assisting with lunch preparation. Works under general direction from the Executive Chef and other chefs in the kitchen. Follows established recipes and basic cooking techniques, including recipe scaling for quantity. Maintains required standards of quality in food preparation and presentation. Observes established procedures and guidelines for food handling and storage. May provide guidance and direction to other kitchen seasonal staff.

Fountain Assistant
Typically works a 3-season assignment with the Fountain Manager while running the Camp store. Responsibilities include assisting the Fountain Manager with maintaining store inventory, helping to enhance the appearance of the Fountain, and training, motivating, and supporting staff. In addition, the Assistant will interact positively with guests when selling sundries, beverages and hosting social hours, while creating a standard of excellent service for All Purpose staff to follow. Approximately 5 hours per week are filled with general All Purpose shifts.

Head of Housekeeping Assistant
Normally a 3-season assignment, the assistant helps the Head of Housekeeping in keeping the guest cabins and main Lodge spotless. Responsibilities include responding to guest requests, motivating and providing guidance and direction for a staff of up to 15, and prepping and organizing supplies. This assignment assumes some duties of the Head of Housekeeping in that person's absence. Approximately 5 hours per week are filled with general All Purpose shifts.
It's not all work and no play for conference staff. Jenni S. packed her bags and boots from Boston, MA and traveled cross-country to the mountains of California for a season with Stanford Sierra. Read more about her experience working at Stanford Sierra »