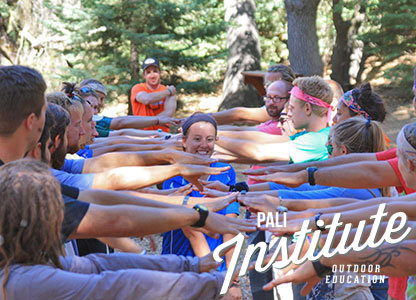 Seeking enthusiastic, outdoor-minded Instructors ready to live and work in the San Bernardino Mountains of Southern California!

Outdoor Education Instructors with Pali Institute will teach a variety of classes during the day, and then take on the role of cabin instructor with responsibilities during meals and at night. The curriculum covers a broad array of topics and activities such as alternative energy sources, building & launching rockets, squid dissection, outdoor cooking, skits, stargazing, team building sessions, low ropes course, three high ropes courses, quad zip lines and more! Currently seeking Outdoor Education Instructors for the winter/spring season (January 2nd–June 2nd).
• View the Pali staff experience »
---
Continual learning, innovation and personal development is at the heart of the Adventure Links staff culture!

With a foundation in outdoor education, Adventure Links at Hemlock Overlook is committed to providing quality adventure programs — from summer adventure camps to environmental education programs for school and community groups. Instructors facilitate weeklong outdoor adventure day camps, residential camps and traveling programs for groups of 14 participants as they explore a variety of outdoor recreation sites in Northern Virginia, Maryland and West Virginia. Actively seeking 3-Season Instructors (late March to mid-November), Summer Camp Instructors (June to mid-August) and 2-Season Instructors (June to mid-November).
---
Ready to kick off an epic gap year experience?

Explore the breathtaking natural beauty of New Zealand and make new mates along the way! The InterExchange Work & Travel New Zealand program gives you the freedom to create your own adventure while offering background support throughout your stay, including job and housing support and social events to meet fellow explorers. Apply today and have the adventure of a lifetime!
---
Teach primitive outdoor skills in the Pisgah National Forest. Facilitate wilderness therapy activities. Empower students to make healthy choices and become more self-reliant.

With four unique programs in North Carolina that are categorized by age and specific need, SUWS of the Carolinas, Phoenix Outdoor, Seasons and Approach Wilderness Field Instructors co-lead groups of adolescents in the backcountry — empowering students to rediscover their strengths while preparing them to sustain meaningful relationships and possess a higher level of personal integrity. Sign-up now for the next New Staff Hiring Seminar from December 10-11, 2016. Connect with Ben Engebretson for more information.
---
PEEC is located on the Pocono Plateau within the boundaries of a 77,000-acre National Park, the Delaware Water Gap National Recreation Area in northeastern Pennsylvania.

As a National Park Service education partner, Pocono Environmental Education Center provides environmental learning trips, outdoor adventures, team building, academic and family programs, retreats and conferences, nature adventure summer camp and hands-on workshops. PEEC Instructors will offer lessons and activities addressing a wide range of topics relating to natural history and ecology, environmental issues, outdoor living skills, and teamwork to participants that range from pre-school children to adults. The 2017 season will begin in late February and most employment will run through October. There are also assignments that begin in April/May through September. Most Instructors will work with the nature-themed day camp from mid-June to mid-August. To apply, send a cover letter, resume and three references to Allison Owczarczak.
---
Farms For City Kids specializes in working with 4th-7th grade inner city youth from NYC and Boston by integrating school academics with every day farm life and sustainable living, and mixing in healthy doses of team building activities.

Educators will lead groups of 5-9 students in farm based activities that will open their eyes to life on a farm, where their food comes from, and the importance of team work and perseverance. Educators are needed to begin in early/mid February for training (the first school groups begin arriving at the farm in late February) with work through mid-November. Also seeking staff for the summer Farm and Adventure Learning programs from June through August. To apply, email a cover letter, resume and three references to Rob Macri.