Are you motivated, creative, passionate, and want to help change lives in a therapeutic wilderness program setting?

Set amid the scenic Blue Ridge Mountains of western North Carolina, Trails Carolina offers a dynamic combination of therapeutic strategies includes a complete equine program, academic classes and backcountry living. Field Instructors are responsible for ensuring the safety of their group, providing positive role modeling, teaching backpacking/backcountry living and wilderness survival skills, and promoting a positive environment for growth to take place.


---
Are you a seasoned professional in the outdoor education, EMS or military special ops fields?

NOLS Wilderness Medicine Institute is looking for dynamic and experienced educators to teach WFR, WFA and/or WEMT courses ranging in length from 2-30 days on a year-round basis throughout the the U.S. (with an emphasis on courses in Arizona, Georgia, North Carolina, South Carolina, Tennessee and Virginia). The next WFR Instructor Training Course will be held from November 9-18, 2014; apply by May 11th for early consideration.


---
Are you looking for an opportunity to expand your technical leading skills while making a difference in the lives of young people?

Do you enjoy performing conservation projects on public lands and forests that provide transformational experiences and change people's lives? The Southeast Youth Corps is looking for dedicated and passionate individuals to lead the Youth Conservation Corps (YCC) and AmeriCorps Conservation Crews. Positions begin with training in late May and conservation projects wrapping up in mid-August. To apply, fill out the online application.


---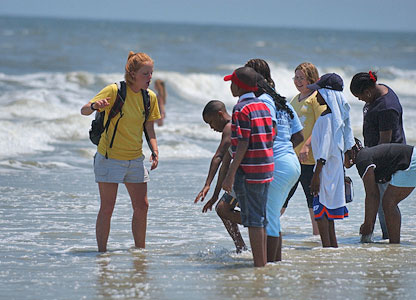 Make the beach and marsh your new classroom as an Environmental Educator with Burton 4-H Center on Tybee Island!

Inspire young people through experiential outdoor learning at the residential education center and teach hands-on classes in coastal ecology, including beach and marsh ecology, reptiles, seining in the ocean, sea turtles, squid and shark dissection and more. Accepting applications for the 2014-2015 school year (nine months from late August to late May, with an 7-week unpaid Christmas vacation). Apply at ugajobsearch.com (search for job posting 20080203); then notify David Weber by email that you have completed your application.

---
Would a summer filled with hiking, backpacking, whitewater rafting, swimming, and sharing outdoor adventures with kids be rewarding for you?

As a small outdoor adventure camp, Walk Your Path Well Adventures is seeking summer outdoor adventure staff to lead hands-on activities that may include outdoor wilderness skills, fire building techniques and campfire cooking, dramatic and nature games, climbing wall challenges, zipline courses, river exploration, rafting, fishing, backpacking and orienteering. Currently seeking two additional MALE Instructors for the summer season. Staff training starts on May 31st—email your cover letter and resume to Al Whitted to apply!