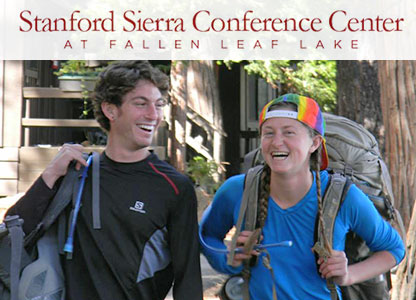 If an exciting hospitality job and beautiful mountain setting is beckoning you, Stanford Sierra Conference Center is a place where you'll have the opportunity to work and play hard, make new friends and help guests enjoy their stay.

Tucked between Desolation Wilderness and Fallen Leaf Lake in South Lake Tahoe, California, Stanford Sierra Conference Center provides all-inclusive lodging and meeting facilities for conferences, business retreats and social events. The Stanford Sierra staff comes from all walks of life—college students, professionals between jobs, experienced workers in the service industry, travelers or people taking time off. Now accepting applications for the spring season that runs from April 14th to June 17th (+ an option for 3-season work)!
---
If you are looking for an experience that will push you to discover who you are and what you are made of, do WorldTeach. Even if you don't plan on being a teacher, I would still highly suggest this program. They will teach and train you to be an amazing teacher, you just have to have the guts to try. –WorldTeach Marshall Islands Volunteer

Interested in international development, teaching and traveling? Make a meaningful contribution and witness firsthand the challenges and rewards of education in a developing country as a WorldTeach volunteer teacher. Currently seeking applicants for the fully-funded yearlong English Teacher placements in the Pacific Islands of American Samoa, Marshall Islands and Micronesia. Check this off your bucket list and apply now or view the latest deadlines on other destinations and begin your teaching adventure abroad.
---
Summer Fenn prides themselves on an exceptional staff of mature and dynamic educators, para-professionals and activity specialists.

Located on the beautiful Fenn School campus in scenic Concord, MA, Summer Fenn provides stimulating, challenging and enjoyable summer day camp experiences for girls and boys ages 5–15. Now seeking patient, enthusiastic and positive individuals who are passionate about working with children in an active, outdoor and fun environment! Summer 2016 positions include Adventure Staff, Nature Day Trip Leader, Nature Programming Coordinator, Base Camp Counselors, Activity Leaders and Aquatics Staff. Camp season runs from June 27 to August 19, 2016.
---
If you love working with children, there's no better way to spend your summer than working as a Camp Pinnacle Counselor or Trip Leader!

Summers at Camp Pinnacle are packed with growth opportunities for both staff and campers, with the hopes that everyone leaves camp with new experience, friendships and a greater love for the outdoors. Your responsibility as a leader, mentor and role model cannot be overemphasized. Perhaps the most important part of Camp Pinnacle is the opportunity for campers to interact closely with top-quality role models. The summer season runs from May 31st–August 7th. View a quick glimpse of camp life at Camp Pinnacle.
---
Located just north of Salt Lake City, Seven Stars is a premier therapeutic program for children with neurodevelopmental disorders who are struggling socially, emotionally and academically.

Adventure Guides are responsible for overseeing the safety and well being of students while facilitating adventure activities including mountain biking, rock climbing, skiing, canyoneering, rappelling and day hiking. Applicants must be willing to make a 6-12 month commitment without many weekends off. If you're patient and excited to work with adolescents on the Autism Spectrum, at least 21 years old and thrive in a challenging environment, email your resume and cover letter to Philip Fair.
---
As a Summer Guide, you can be part of shaping this developing program and play a vital role in the life stories of the incredible individuals the Ranch team is honored to stand alongside every day!

Using the transformative power of the wilderness and adventure, Meramec Adventure Learning Ranch Summer Guides & Lifeguards will facilitate a 10-week therapeutic summer adventure program with youth in residential treatment. During these trips, adventure activities such as ropes courses, team challenges, climbing, lake and aquatic adventure activities and the outdoors itself are used as a catalyst to build relationships and produce victories that grow awareness, efficacy, connection, purpose and hope. Positions run from May 16th to July 28th. If you are at least 21 and have a calling/passion to come to the Ranch, grit, disciplined work ethic, unconditional care and a willingness to have fun and act silly, contact Ryan Demoret to apply.
---
Want to spend your summer working and playing on Lake Champlain, Vermont? Love to sail, swim, or paddle? Enjoy interacting with your community?

Working for the Community Sailing Center is a fantastic opportunity for someone who is looking to grow in the sailing industry or in customer service while working with a passionate group of sailors, paddlers, teachers and recreation enthusiasts. Seasonal positions include a High School Sailing Coach, Head Sailing Instructor, Sailing Instructors/Coaches and a Waterfront Coordinator and Director with varied start/end dates from April–October.
---
PEEC is located on the Pocono Plateau within the boundaries of a 77,000-acre National Park, the Delaware Water Gap National Recreation Area in northeastern Pennsylvania.

As an education partner of the National Park Service, Pocono Environmental Education Center provides environmental learning trips, outdoor adventures, team building, academic and family programs, retreats and conferences, nature adventure summer camp and hands-on workshops. PEEC Instructors will offer lessons and activities addressing a wide range of topics relating to natural history and ecology, environmental issues, outdoor living skills, teamwork and communication to participants that range from pre-school children to adults. The 2016 season will begin in late February and most employment will run through mid-November. There are also assignments that begin in April/May with work through August.
---
Work with leaders. Build your resume. Become a mentor. Train and play. Practice coaching. Play in the Berkshire Mountains.

The Berkshire Soccer Academy for Girls is a unique training setting for girls, ages 9 to 17, who are passionate about soccer and looking to elevate their game. Each summer, the Academy selects 50-60 top-notch staff from around the world; giving them the opportunity to learn, meet new friends, impact kids, and have fun. Positions include Soccer Staff: from soccer coaches and mental skills instructors; Specialty Instructors: from outdoor adventure to yoga; and Support Staff: including kitchen, medical, office and operations members. Summer camp runs June 19–August 13, 2016. To apply, complete the online application or email Liz Hopley for more info.