Milk a cow. Spin wool from sheep. Harvest fresh organic produce. Live sustainably. Backpack from bay to sea. Swimming, hiking, storytelling, crafts. Live, work and play on a 1,600 acre wilderness preserve and organic farm in the Santa Cruz mountains!

Summer camp at Hidden Villa will awaken each campers' sense of awe for natural and human beauty, provide tools for multicultural community building, and create a learning environment that encourages a commitment to social and environmental justice. Summer Staff are integral in creating a place where everyone can develop self-confidence and experience a sense of belonging. From residential counselors and program heads to farm, healthcare and kitchen staff, over 50 summer job opportunities are available!
---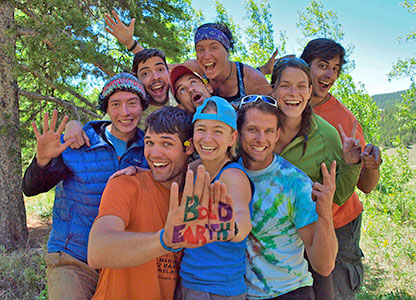 Working for Bold Earth is a privilege with immense responsibilities. Trip Leaders must be highly motivated role models with experience working with youth!

Since 1976, Bold Earth Teen Adventures has set the standard for leadership in the teen adventure travel industry. Using Colorado as a home-base, Bold Earth offers incredible summer adventure travel trips for teenagers on 6 continents. Bold Earth trips are carefully crafted to offer the best of adventure, leadership, community service, culture and FUN. Trip Leaders will facilitate group dynamics with 13-15 teenagers while teaching a broad range of adventure travel skills along with an experienced Senior Leader. Staff training begins on June 21st in the mountains outside of Denver. First year Leaders must have no time constraints between then and August 15th.
---
Work with leaders. Build your resume. Become a mentor. Train and play. Practice coaching. Play in the Berkshire Mountains.

The Berkshire Soccer Academy for Girls is a unique training setting for girls, ages 9 to 17, who are passionate about soccer and looking to elevate their game. Each summer, the Academy selects 50-60 top-notch staff from around the world; giving them the opportunity to learn, meet new friends, impact kids, and have fun. Positions include Soccer Staff: from soccer coaches and mental skills instructors; Specialty Instructors: from outdoor adventure to yoga; and Support Staff: including kitchen, medical, office and operations members. All staff will work from approximately mid-June to mid-August.
---
In this day and age, the opportunity to live on beautiful land that is targeted towards a healthy lifestyle is a rare treat.

Hispromises Farm is a small organic farm creating healthy, organic foods. The farm owners are seeking people who are passionate about organic farming as well as raising goats and chickens naturally. The work day will include garden and animal care such as goat milking and feeding, planting and tending to the large organic garden, herb garden care and preparing products for market, including raw yogurt, cheese and ice cream. To apply, email your resume with qualifications to Hispromises Farm. The farm has no web presence at this time.
---
Mystic Seaport is the America's leading maritime museum!

Now seeking Sailing Instructors for the Joseph Conrad Overnight Summer Sailing Camp and Community Sailing programs. Community Sailing Instructors will teach beginning and intermediate sailing classes to youth, adults and families that includes safety, boat handling, sailing theory, dry land and on-the-water drills and inclement weather activities. Joseph Conrad Sailing Instructors will work in their area of expertise while instructing trainees in sailing, rowing, seamanship and maritime history. Community Sailing Instructor positions run from March to December (1 opening) and June to September. All other positions run from June to August. To apply, complete an application and send this with your resume and cover letter to Kristen Deveau.
---
The Douglas County Outdoor Education Center has a young and energetic staff that are passionate and enthusiastic about working in the outdoors. You'll work hard during the week and play hard on the weekends.

DCOEC Instructors will teach students in a variety of classes within the disciplines of science, outdoor education and leadership development; lead activities for retreat groups, including team building, ropes course and the zip line; and mentor high school students and provide leadership training. Currently hiring for the spring season that begins immediately and runs through early June. Also accepting applications for the fall season. Please apply online.
---
Do you love teaching young children and have a passion for nature? Are you creative, energetic, engaging and genuinely interested in connecting young children to the natural world?

PUDDLESTOMPERS Nature Exploration is looking for fun-loving people to teach environmental education in the Greater Boston area. Learn more about current employment opportunities and email your resume and cover letter to Carol Milewich to apply. Positions are open until filled.