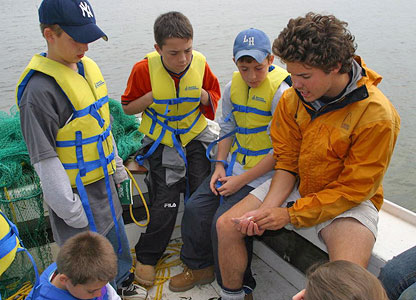 Motivated, energetic and creative individuals who are looking for a challenging and rewarding experience will thrive at Echo Hill!

Echo Hill Outdoor School is a community which thrives on education and stresses genuine concern for others, cooperation, integrity and enthusiasm for life. Residential Teacher/Naturalists will gain insight into diverse educational philosophies, participate in program development and teach classes from all curriculum areas. Interns assist the teaching staff while learning the ropes of environmental and adventure education. Now seeking Naturalists and Interns for the fall season beginning in late August and a full-time Captain Educator who will rotate through four historic wooden Chesapeake Bay vessels and take an active role in providing students with positive experiences in the outdoors.
---
Are you looking for an opportunity to expand your technical leading skills while making a difference in the lives of young people?

Do you enjoy performing conservation projects on public lands and forests that provide transformational experiences and change people's lives? The Southeast Conservation Corps is looking for dedicated and passionate individuals to lead the Youth Conservation Corps (YCC) and AmeriCorps Conservation Crews. Now seeking AmeriCorps Field Crew Leaders for the fall season (August start) AND AmeriCorps Conservation Crews to begin work on August 24th for 8–12 weeks.
---
Set apart by a first-rate staff, scenic campus, rich traditions, and impressive activities, and a Friendly to All way of life, YMCA Camp Takodah is a premier New England summer camp that offers classic single-gender programs for both boys and girls ages 7-17.

Takodah Outdoor Education Instructors will facilitate programs that have an emphasis on community team building, natural history, environmental education, outdoor living skills, nature hikes, the ropes course and other curriculum driven lessons. To apply, fill out the online application or connect with Peter Simmonds for more information. Now seeking applicants for the fall season (mid-August to mid-October).
---
A strong 40-year tradition in outdoor environmental education blends fresh ideas and talents of college-educated individuals with varied background experiences and the love of working with youth to make Storer's programming exceptional.

YMCA Storer Outdoor School Program Educators will facilitate recreational activities and teach a curriculum that includes the natural sciences, environmental awareness, cultural history, team building and adventure education (including the climbing tower and low/high ropes courses). Seeking Program Educators to work August–May 26, 2016 as well as a full-time Outdoor Education Program Coordinator and a Health Services Coordinator. To apply email your cover letter and resume to Nancy Burger.
---
The Ark Fellows is a year-long service program in Northwest Arkansas for recent college grads!

Each Ark Fellow serves for 32 hours per week through an internship at a local non-profit, with placements available in sustainable agriculture, food security, and garden education. Fellows serve 4 days each week, live in community with 5-7 other young adults, and spend Fridays engaged in spiritual development and social justice education. Positions run from September 8, 2015 through August 13, 2016.