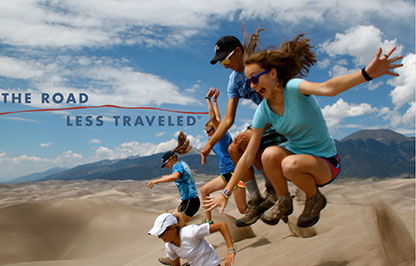 The Road Less Traveled is an extraordinary opportunity to join with others and build deep relationships and meet challenges together. Life moves, changes, begins, ends, challenges, questions, hurts, exhausts, inspires, connects, satisfies, and rewards. Join RLT as you enrich the world and the lives of others.

As a Field Instructor for The Road Less Traveled, you'll have the opportunity to share your knowledge and love of the wilderness, service learning and cultural awareness with bright and enthusiastic young people; work with other highly motivated, qualified, committed professionals; and experience extraordinary lands and cultures around the world.
---
Open the door of curiosity, real life experiential learning & environmental awareness for groups of students immersed in the great outdoors.

Provide hands-on learning in real world environments at Wahsega 4-H Center and experience being part of the Georgia 4-H Environmental Education Program—one of the nation's largest providers of residential environmental education. Seasonal Environmental Educators will teach classes in earth and life science, survival skills, team building and pioneer living skills. Now hiring for the spring season (mid-February through late May 2015).
---
Great snow, great views, mountain living, and great work/play options!

Get a jump on your career with a seasonal job at Diamond Peak Ski Resort. Winter job opportunities are available in food & beverage, dispatch & ski patrol, customer service, lift & mountain operations, maintenance, transportation, and ski & snowboard instruction. Join Diamond Peak Resort at their 2014-15 Winter Job Fair on Saturday, October 25th from 9:00 a.m. to 1:00 p.m. to meet all hiring managers. Land a job and enjoy competitive wages, recreation benefits, no state taxes and so much more.