For over 20 years, Calleva has built a reputation for excellence and innovation in outdoor education and outdoor adventure programming.

Introducing kids and adults to gorgeous wilderness areas in the DC area, Calleva provides outdoor adventure, sustainable agriculture and environmental science programs for groups in Maryland, Virginia and West Virginia. Now seeking passionate individuals who are excited about coming to work every day — people who aren't afraid of getting dirty or being in the river all day, and who can roll with the punches and have a good time doing it. Calleva values people with diverse life experiences who seek adventure in their personal lives. 2018 Instructor positions are available for 3 seasons (April to November), summer camp (June to August) and the fall (early August to mid-November).
---
Camp Summit provides a great opportunity for growth, fun, resume building, memories and impacting the lives of remarkable campers who have a wide range of disabilities.

Barrier-free outdoor camp experiences that promote personal growth and foster independence include a specially designed swimming pool, a giant swing, 2 zip-lines and ropes challenge course, archery range, horseback riding, sensory garden, covered outdoor gymnasium, outdoor amphitheater, and lodge with fireplace. Seasonal staff positions include Counselors, Unit Leaders, Rovers, Nurses, Kitchen Staff and Activity Directors in the following areas: Arts & Crafts, Horses/Wrangler, Kaleidoscope, Nature, Pool, Ropes Course, and Sports & Games. If you are caring and compassionate, able to work on a team, open minded, willing to learn, energetic, enthusiastic, and encouraging, fill out the online application or contact Evan Looft for more info. Now seeking staff for the summer months (May 19th–August 19th, with a staff break from June 30th-July 6th). A world of POSSIBILITIES — view the Camp Summit experience »
---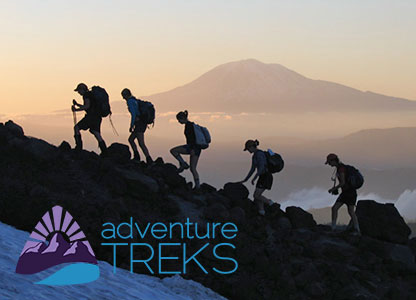 Whether climbing snowy Mount Adams or teaching rock climbing in sunny California, Adventure Treks Field Instructors will lead groups of teenagers in diverse outdoor settings that will be challenging, rewarding and fun.

Through adventures designed to foster community, build confidence and teach leadership, Adventure Treks operates 13 to 30-day wilderness-based programs for teenagers in BC, AK, CA, OR, WA, CO and WY. Instructors are in charge of managing group dynamics, coordinating logistics and leading activities that include backpacking, rock climbing, mountaineering, mountain biking, caving, canoeing, cooking, orienteering, Leave No Trace concepts and general environmental education. There is the opportunity to work both summer (early June to mid-August) and fall school group programs (late August through late October in North Carolina). To apply, email your resume to to Erica Van Steenis. VIEW the method behind the magic at Instructor Orientation and meet the faces of Adventure Treks.
---
Would you like to meet new people, work with horses and wake up everyday in one of the most awe-inspiring National Parks in the U.S.?

Now seeking honest, hardworking, people-friendly individuals who would like to enjoy a memorable, exciting, educational and fun summer with Swan Mountain Outfitters. Job openings include trail ride wranglers, barn managers, packers, cooks, housekeepers and receptionists/office staff with varied employment dates from April 15th–September 30th. Compensation includes room and board, a monthly salary and possible tips. Explore all employment opportunities, apply here or connect with Aubrie Loroña for more info.
• Are you interested in a Swan Mountain Outfitters position, but have absolutely no experience with horses? Or, do you just need to brush up on your horsemanship skills? If so, attend the Swan Mountain Wilderness Guide School and take your horsemanship to the next level!
---
If you have a passion for flowers, Wollam Gardens is the place to work, learn, live and grow your floriculture dream.

Floriculture Interns have the opportunity to learn all aspects of a cut-flower growing operation, including seeding, planting, weeding, harvesting, bouquet making and custom florals, attending farmers markets, and assisting with onsite events. You will get dirty, work hard, experience an amazing hands-on learning environment, and see first-hand the beauty of this unique operation. Life on the farm is a communal living experience—all Interns will share in the chores of cooking, cleaning, caring for the chickens, and hosting visitors. Farm and/or floral experience is not required; however, priority will be given to candidates who can demonstrate that they understand the level of hard work associated with farming. If you have an outstanding work ethic, team spirit, an eye for beauty and color, and a love of the outdoors, apply online. Now seeking Interns for the summer and/or fall season.
---
Are you interested in helping build girls of courage, confidence, and character while enjoying the beautiful outdoors?

Spend a wonderful summer with Girl Scouts of Maine! Unit/Program Leaders are in charge of supervising an assigned unit or program area and assisting in the day-to-day activities — from sailing, canoeing and rock climbing to arts, nature and games. Wilderness Trip Leaders and Junior Maine Guide Leaders teach 21 outdoor skills and plan, organize, and lead hiking and canoeing wilderness camping trips throughout Maine. Wilderness staff must be passionate about taking girls out into the outdoors, an enthusiastic teacher, have previous wilderness trip leading experience, student experience in a NOLS or Outward Bound type program (preferred), current WFA/WFR and Lifeguarding certifications (Girl Scouts can help with this), and at least 21+ with a clean driving record. The summer camp season runs from mid-June through mid/late August and includes a certification week (if required), one week of extensive staff training, 5 weeks of resident camp and 2-3 weeks of troop/family camp programs. Apply now!
---
Based in a remote and stunningly beautiful corner of Alaska, join Pangaea Adventures and their upbeat team of passionate, informed, and safety-conscious individuals.

Now seeking positive, hard-working, team-oriented individuals who would like to spend a fun summer working as a Sea Kayak and/or Whitewater Rafting Guide. Guides will safely and informatively lead small groups of people on sea kayak tours in tidewater glacier zones and throughout Prince William Sound surrounding Valdez, and possibly on class III rafting trips down the nearby dramatic Keystone Canyon of the Lowe River. The dates of employment run May 11th to September 14th, and busy, full-season Guides can make up to $7k-$8k over the course of the summer (and that's before taxes and after tips). Living is also provided in a choice, rustic spot on the edge of town within a quick bike ride from the office. Applicants must be U.S. nationals and have Swiftwater Rescue training, WFR certification, and prior raft guiding experience. If you are a personable, positive, team-oriented, and an able-bodied outdoor enthusiast, email Tim Duffy a cover letter, resume, and at least 3 reference contacts.
---
Are you motivated, energetic and love working with children?

Since 1995, Pedalheads has been teaching kids to go from training wheels to trails by combining exciting lesson plans with amazing instructors and small class ratios. Now seeking Site Managers and Site Supervisors (serving as assistants) to manage all activities at their respective Denver Pedalheads sites. Day-to-day duties include program management (ensure every participant has a safe, positive and rewarding experience and provide lots of hands-on involvement with the kids), employee relations (staff scheduling and mentoring), customer service (always willing to go the extra mile to engage customers), administration (process payments for product sales and assist with on-site registration) and operations (manage equipment and supplies for site). Positions begin in late May with mandatory paid training and run through August 4th, with a 35 to 40-hour workweek MO-FR. Applicants should have extensive supervisory, organizing and instructing experience with children of all ages, preferably in a camp or sporting environment. No need to be an expert biker! If you are a mature and dynamic leader, apply now.
---
Door County Adventure Center offers fun, safe, and affordable adventures that include kayaking, zip lining, low and high ropes challenge course, paddle boarding, team building & leadership retreats and youth camps.

Now seeking Adventure Guides who will be trained as a kayak or zip line guide (depending on preference), as well as cross-trained as a rental sports associate. Guides are ultimately responsible for guest safety, gearing up the guest, and making the tour fun for all. Duties also include booking tours, providing proper information to guests, and selling other tours/adventures. Summer internships are also offered to manage and oversee the zip line, kayak, and rental operations—a great opportunity for college students! The summer season runs from Memorial Day to Labor Day, with a varied 5-day work schedule. No experience is required; however, preferences will be given to applicants who have experience with adventure sports, camping, teaching, and/or facilitating groups. If you are self-motivated and have a passion for outdoor education, recreation and fun, email your resume to Tim Pfleiger.
---
Wilderness Fellows work across the nation in awesome places!

The Wilderness Fellows Program hires bright, highly educated, driven, creative, independent young professionals and places them at land management agencies across the country. Project work includes wilderness character monitoring, writing wilderness education plans, assisting in outfitting and guiding permitting processes, and conducting cultural resource monitoring. Fellows engage in strategic planning, data collection, agency staff interviewing and coordination, and scientific writing. High quality project work is expected, and comfort with initiating communication, designing outcomes, driving achievement, and meeting deadlines is required. Fellows must make a commitment from May 21st to November 9th, with a few extending up to a year. Applicants must have a Bachelor's degree in related field, a deep interest in wilderness/resource management, and be results-oriented with the ability to set and follow realistic goals and objectives.