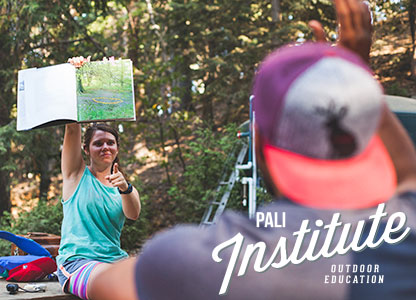 Seeking enthusiastic, outdoor-minded Instructors ready to live and work in the San Bernardino Mountains of Southern California!

Outdoor Education Instructors with Pali Institute will teach a variety of classes during the day, and then take on the role of cabin instructor with responsibilities during meals and at night. The curriculum covers a broad array of topics and activities such as alternative energy sources, building & launching rockets, squid dissection, outdoor cooking, skits, stargazing, team building sessions, low ropes course, three high ropes courses, quad zip lines and more! Now hiring Outdoor Education Instructors for the winter/spring season (early January to early June, with a week off for spring break!). View the Pali staff experience »
---
Do you enjoy working outside and have an interest in teaching children?

Enthusiastic, creative and motivated seasonal Instructors for Rock Eagle 4-H Environmental Education Program are needed to teach interactive classes and nontraditional activities in ecology, living history, team building and outdoor skills that will take each student on a voyage of discovery where learning comes alive. Training includes teaching techniques, classroom management skills, class and curriculum outlines, animal handling and high ropes course instruction. Now seeking Environmental Educators for the spring 2017 season (early February to late May). 16 positions will be filled.
---
Camp Killoqua is a non-profit residential summer camp and outdoor education facility located on 185 acres of forest, wetlands and waterfront in beautiful Western Washington.

Outdoor Education Instructors are responsible for teaching a curriculum that focuses on forest, wildlife, and wetland ecology of the Pacific Northwest, leading team building and outdoor recreation activities (including the climbing wall, canoeing, archery, outdoor living skills, and orienteering), as well as evening activities (such as night hikes, cooperative games, and campfires). Applicants must have two years or more of college, plus experience working with children in the outdoors, the ability to be a positive role model, ability to be creative on the go, and have a flexible attitude and strong work ethic. Now seeking Instructors for the spring season (March to early June + summer camp option) and summer camp staff!
---
Beyond having a productive growing season, creating a fun and enjoyable working experience is a top priority at Sandbrook Meadow Farm!

Located on 50 acres in beautiful rolling New Jersey farmland, Sandbrook Meadow Farm is committed to preserving the integrity of the land and the joys of farm community through responsible organic farming practices. Farm Interns are a key element of the farm and can expect to contribute and learn skills in greenhouse management, field production methods, harvesting, and distribution. The Farm values a cooperative relationship and are committed to making the internship an educational experience as well as a working one. Positions run from April 15th or May 1st through August or October 31st, 2018. The weekly commitment is generally Monday-Friday, 8-5 but that can vary depending on seasonal demands. If you have enthusiasm for growing food and community while having lots of fun, call or email Alex Sawatzky and an application will be emailed to you. A phone interview and meet and greet (if possible) are the final steps.
---
White Oak Farm & Education Center is dedicated to cultivating connections between people and their local ecosystems by pursuing community food security, fostering agricultural and ecological diversity and teaching the arts of sustainable living.

The 2018 Farm Internship Program will focus on teaching skills and techniques including organic farming for market, CSA, and seed production, natural building, children's education and homesteading. Specific skills include care of livestock, planting, cultivation, harvesting, marketing, food preservation, eco-forestry, and environmental education curriculum and teaching techniques. A full season commitment is required from April 1st–October 31st; however, a 3-month summer Internship is also available from May-September with flexible dates. If you have a passion for organic farming and education, send your resume, references and cover letter noting your desired term, relevant experiences and interests to Taylor Starr.
---
If you want a unique experience in an unparalleled setting, living and working at family-owned Camp Denali and North Face Lodge represents a lifestyle, not just a summer job.

Now hiring a Kitchen Team for the 2018 season, including a Sous Chef, Breakfast and Dinner Cooks and Kitchen Helper/Dishwashers. Kitchen staff are committed to serving wholesome and flavorful food, expertly presented, and prepared using the highest quality local and organic ingredients. A team environment characterizes the kitchen milieu — cooperation is emphasized over hierarchy and collaboration over autonomy. All staff must commit to a full season (May 24th through September 13th, 2018; and a two-season commitment is necessary). Applicants will do well here if they also have a desire to explore Denali National Park, disconnect from technology, and share in creating an experience for lodge guests that is beyond compare. If you are excited about being part of a community and interested in working in a cooperative and professional kitchen, learn more about the application process and apply now. Interviews are underway and early applications receive the best consideration!
---
ACES is building a community of knowledgeable, capable, and motivated environmental stewards.

Aspen Center for Environmental Studies conducts an intensive Summer Naturalist Internship program that trains and employs twelve Naturalists each year. Naturalists receive valuable education, training and experience while conducting natural history interpretive tours, children's environmental education programs and teaching bird of prey programs to the public. Applicants must be able to work from June 4th–September 3rd, 2018 (June 4th–15th mandatory staff training), with work options extending into the school year or winter. To apply, download and complete an application and send it to Jim Kravitz by February 15, 2018.