If you are looking for an experience that will push you to discover who you are and what you are made of, do WorldTeach. Even if you don't plan on being a teacher, I would still highly suggest this program. They will teach and train you to be an amazing teacher, you just have to have the guts to try. –WorldTeach Marshall Islands Volunteer

Interested in international development, teaching and traveling? Make a meaningful contribution and witness firsthand the challenges and rewards of education in a developing country as a WorldTeach volunteer teacher. Apply by April 15th for WorldTeach Colombia Year or the Costa Rica and Namibia Summer programs departing in May/June. Check out the latest deadlines on other destinations and begin your teaching adventure abroad.
---
A great staff is what any program is built upon! This is your chance to be a part of an exciting, growing program while working and living along the shores of beautiful Torch Lake and Arbutus Lake in Northern Lower Michigan.

YMCA Hayo-Went-Ha Camps provide fun, outdoor learning experiences that inspire personal growth, team building, and appreciation for our natural surroundings to youth of all ages. Acting as teacher, facilitator, mentor, chaperone, kitchen assistant and housekeeper, Experiential Environmental Education (E3) Naturalists will teach science classes such as forest and animal ecology, geology and earth education as well as adventure classes including orienteering and survival. Two weeks of staff training will begin on March 30th with employment through June 9th. There are also several positions that will carry on through the summer/fall with an end date of Nov. 15th.
---
Explore a unique summer job opportunity with Camp Fire Alaska Rural Program to serve Alaska's kids and engage rural communities!

As a Senior Program Staff member for the Camp Fire's Rural Alaska Program, you'll travel to villages throughout the state leading programs on community engagement, healthy lifestyle choices and facilitating outdoor recreation activities including swimming, cold water safety, hiking, biking, outdoor education, arts and crafts, group games, team building, cooking, and sports. Applicants must be comfortable traveling in small aircraft and living unplugged in remote areas for extended periods of time. Positions run from June 1st to July 29th. Camp Fire Alaska is also seeking a Kitchen Manager, Waterfront Leader, Nature Specialist and Counselors at Camp K.
---
Camp Europe offers young, energized people from the EU, as well as Canadians, U.S. & Australians, the opportunity to embark upon the ultimate life changing experience in the Old Continent.

Working as an Adventure Guide, Camp Counselor, Group Leader or Language Coach, you will participate in an amazing summer internship in Germany, Spain, Ireland, Austria, England or Malta and meet people from all over the world. The 5-day International Camp Counselor training session will be held in Bavaria, Germany in late June. Positions are available from 2-12 weeks and male applicants are especially needed this summer. Learn more about Camp Europe's Pre-Camp Tour!
---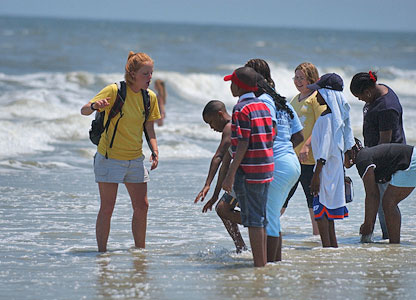 Make the beach and marsh your new classroom as an Environmental Educator with Burton 4-H Center on Tybee Island!

Inspire young people through experiential outdoor learning at the residential education center and teach hands-on classes in coastal ecology, including beach and marsh ecology, reptiles, seining in the ocean, sea turtles, squid and shark dissection and more. Accepting applications for the 2015-2016 school year (nine months from August 20, 2015 to May 31, 2016, with an 7-week unpaid Christmas vacation). Apply at UGAJobSearch.com (search for job posting 20150281); then notify David Weber by email that you have completed your application.
---
Beyond having a productive growing season, creating a fun and enjoyable working experience is a top priority at Sandbrook Meadow Farm!

Sandbrook Meadow Farm is committed to preserving the integrity of the land and the joys of farm community through responsible organic farming practices. Interns are a key element of the farm and can expect to contribute and learn skills in greenhouse management, field production methods, harvesting, distribution, planning and animal husbandry. Positions run from April 15th or May 1st through October 31st, with a 5½-day workweek. If you have enthusiasm for growing food and community, call or email Alex Sawatzky and an application will be emailed to you.