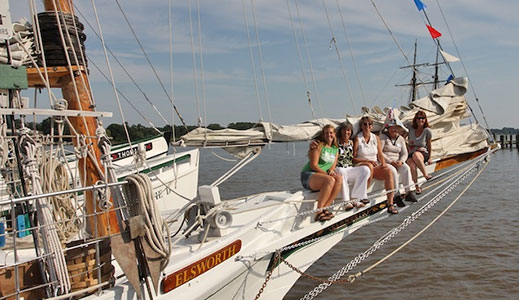 Captain Educator
Now seeking a full-time Captain Educator. EHOS Captains rotate through four historic wooden Chesapeake Bay vessels; a skipjack, a buyboat, and two deadrise work boats. The position provides opportunities beyond the scope of a traditional Captain. Echo Hill's outdoor classes and residential programs are grounded in the desire to have students live and learn closely with nature. You will take an active role in providing students with positive experiences in the outdoors that are exciting, interesting, and fun.
Applicants must possess a minimum USCG license of 25 Ton, Inland. Previous experiential education or leadership training experience is preferred. Shoreside housing and meals are provided during the program year. This is a long-term, year-round position. To apply, email your resume to Andrew McCown.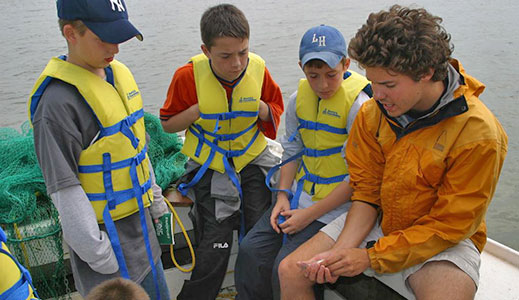 Teacher/Naturalists at Echo Hill provide opportunities to learn more about natural sciences and local history; adventure course facilitation and training; residential life; individual and group guidance; facility care and maintenance (including landscaping, gardening and carpentry); and the restoration and maintenance of historic wooden boats.
Instructors will gain insight into diverse educational philosophies, participate in curriculum development and often collaborate in teaching. While there is a strong and established framework for all of the classes taught at EHOS, great responsibility is placed on a staff member to plan, execute and provide the creativity behind any lesson plan.
On a typical day, staff members teach two 3-hour classes, participate in an evening activity and supervise breakfast, lunch and dinner. At night they read stories or sing songs to a tent of students before going to bed. Throughout the week, staff may participate in campus work or focus on a responsibility area for a 3-hour work block. The school's facilities may be adapted to meet the needs of groups ranging from the college level to first graders, but the majority of the programming is geared towards middle school students. Depending on their comfort level, staff members may find themselves responsible for teaching a wide variety of classes, ranging from Bay studies which is conducted on one of the school's historic Chesapeake Bay work boats to an Adventure class on the school's challenge course.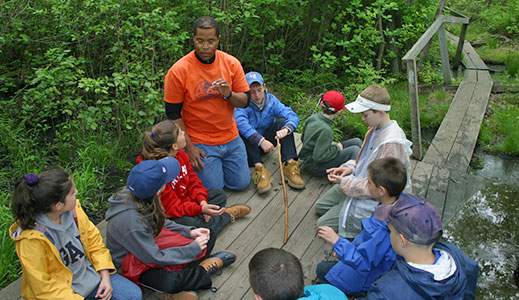 Interns at Echo Hill serve as assistants to the teaching staff while learning the ropes of environmental and adventure education. Key responsibilities include assisting with all aspects of the school curriculum (including planning, co-teaching and assessing classes), helping with the supervision of students at all times, creating and implementing new course and curriculum ideas, overnight tent/cabin duties for groups of 7-10 children and active involvement in staff assessment of visiting groups.
Interns are encouraged to create their own goals and objectives for their experience, and it is extremely beneficial for the intern to maintain a journal throughout their tenure at Echo Hill. An orientation, supervision and evaluation is provided during the internship period.
EHOS interns are often students working in conjunction with their college and Echo Hill Outdoor School to earn course credit and fulfill individual course requirements.