Do you have a willingness to share life with a community of diverse people while helping those with mental illness cope with and lead more fulfilling lives?

Situated on 700 acres in Vermont's Green Mountains, surrounded by woods, adjacent to the Appalachian Trail, and near the pristine serenity of Spring Lake, Spring Lake Ranch is a therapeutic residential community and farm with the mission to support and empower people with mental health and substance abuse challenges to grow, thrive, and seek their dreams.
House Advisors/Crew Leaders live and work alongside residents, leading the wide variety of tasks that keep the Ranch running through every season of the year: care of the farm animals, working in the garden, bringing in hay, shoveling snow, chopping wood, pressing apple cider, cutting ice from the lake, building furniture, producing maple syrup, clearing trails, and helping with the ongoing tasks of cooking, cleaning, sewing, and repairing. Benefits include $327/week, private accommodation within a Ranch residence, all meals, full health and dental insurance, two weeks paid vacation and sick time in the first year, educational opportunities, use of all Ranch facilities including laundry, linen service, woodshop, auto shop, pottery studio, art room, sewing room, computers, and lake front with private dock and canoes; plus the many less tangible benefits that come from living and working in a close-knit community. House Advisors make an initial commitment of six months to one year and many apply to stay longer. Explore all employment opportunities at SpringLakeRanch.org.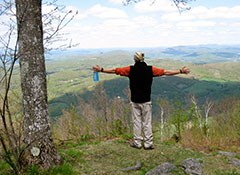 • Engage in the lives of others and the life of the land. Share your skills, talents and warmth with a diverse community of people trying to lead more fulfilling lives. Play in the Green Mountains of Vermont. Learn about becoming a Shadow Warrior or how the team contributes a steady stream of energy, creativity and enthusiasm for residents at Spring Lake Ranch.