What You'll Be Doing
Take on a variety of roles with NCOAE participants — serving as leader, facilitator, educator, counselor, role model and friend!
NCOAE recognizes that dedicated instructors and administrative staff are key to the organization's future growth—and to student and participant success. If you have a deep passion for education and the outdoors, take immense pride in your work and your ability to positively impact the lives of others, embrace change, and believe that mountains, rivers and surf provide opportunities for growth and learning, NCOAE invites you to explore their current job openings.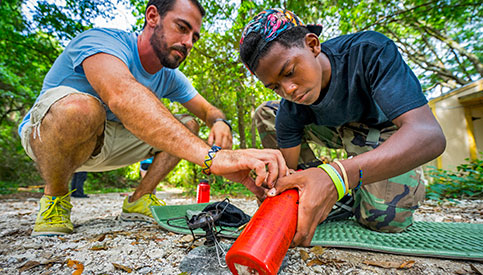 Do you have what it takes?
NCOAE is looking for individuals who are committed to the educational, emotional, and physical development of people on a personal, group, and larger societal level. Their staff are expert in leading participants through the rigors of backpacking, climbing, whitewater rafting, surfing, and sea kayaking adventures—and helping participants realize valuable life lessons from their outdoor adventure course experience using the NCOAE curricula.
NCOAE values people with diverse life experiences who seek adventure in their personal lives. All courses are physically and mentally demanding, and staff must have considerable proficiency in teaching and communicating with participants of diverse backgrounds and needs.
Course Directors
The Course Director oversees the risk management, quality control, and educational effectiveness of all courses. Primary responsibilities include supervising and evaluating Field Instructors, managing technical course sites, overseeing all logistical details of courses in the field, assisting with NCOAE's development and providing reconnaissance of new and proposed course areas.
Additional Duties Include
• Serving as the primary link between program management staff and Instructors
• Supervising field staff
• Organizing and managing staff trainings according to individual, technical, and educational skills
• Serving as trainer and mentor
• Managing completion of all course planning and general readiness tasks prior to student arrival
• Providing oversight and management of courses (planning, implementation, pre-trip and post-trip briefings, etc.)
• Assisting with logistics
• Providing site support
• Packing course food
• Assuming Instructor role as needs dictate
• Providing additional training as needed for support staff working with assigned courses
Position Requirements
• 3+ years experience working in outdoor education programs
• Current Wilderness First Responder certification
• Leave No Trace Trainer
• Competency in risk management skills
• Satisfactory completion of an NCOAE IC or IC-Pro training
• 2+ years experience managing staff, preferably in an outdoor education or experiential learning program
Lead Instructors
The Lead Instructor manages the safety of the students and co-instructors while facilitating multi-day adventure education programming in the field. You will be the primary individual who manages risks and assures effective courses. You will serve as educator, role model and friend. You must be able to teach and facilitate NCOAE's curriculum to teens, adults and co-instructors, complete documentation accurately and in a timely fashion and participate in pre-trip and post-trip briefs. Additional duties include facilitating a meaningful group process and setting an emotionally and physically safe, fun and engaging tone for instructors and students to follow.
Position Requirements
Minimum:
• 3+ years of experience leading outdoor education programs
• Current Wilderness First Responder certification
• Leave No Trace Trainer
• Competency in risk management skills
• Satisfactory completion of an NCOAE on-campus instructor training or NCOAE Outdoor Educator Training
Preferred:
• 5+ years experience leading domestic and international outdoor education programs
• Current WEMT certification
• Leave No Trace Master Educator
• Master's, Bachelor's or Associate's degree in adventure education, outdoor education, recreation, wilderness leadership or related degree
Are you a Raft Guide, Paddling Instructor or Rock Climbing Instructor?
Priority will be given to those who possess the experience, skills, certifications and requirements to serve as the whitewater rafting or paddling instructor, and/or rock climbing instructor. This allows staff members to instruct groups throughout an entire course, eliminating disruptions within the progression of each course.
Raft Guide Requirements
• Current WFR certification
• Current Swift Water Rescue certification
• 2+ years experience leading rafting or paddling trips on class III-IV rivers
• Competency in risk management skills
Rock Climbing Instructor Requirements
• Current WFR certification
• Current AMGA SPI certification
• 3 years experience climbing 5.8 terrain or higher
• Competency in risk management skills
Location
Just a short three-minute drive from the scenic beaches of the Atlantic Ocean, the NCOAE headquarters in North Carolina sits on 17 wooded acres adjacent to the Cape Fear River and is home to deer, black bear, live oaks, cypress and magnolias. The facility consists of a 2,000 square foot classroom with offices, a 1,200 square foot gear warehouse, staff and participant housing, a WiFi-enabled campus, outdoor showers, and laundry facilities.
Compensation & Perks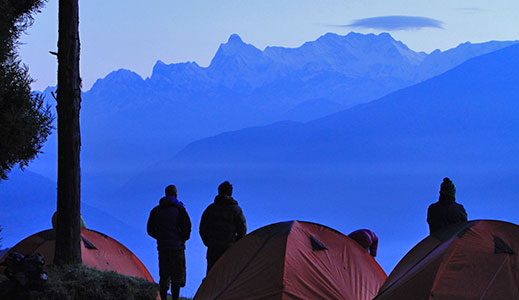 Compensation and wages are competitive and based on factors such as a candidates' experience, education, certifications, and commitmen.
Course Directors: Field Day: $120-$175/day; Hourly: $10-$15/hour
Field Instructors: Field Day: $70-$160/day; Hourly: $10-$13/hour
An additional perk is the potential for staff to travel and work at unique course sites throughout the United States and the world. Course locations include East Africa, the Himalayas, Patagonia, North Carolina, Alaska and the Pacific Northwest.
All staff are required to possess a WFR certification. NCOAE offers this course several times each year. Candidates are responsible for obtaining all certifications required for NCOAE positions prior to employment.
Connections & Application
If you have a background in outdoor education, outfitting and guiding, or adventure-based team building, and you're committed to the NCOAE ideal of facilitating professionally led outdoor adventure and education experiences for youth and adults that foster teamwork, environmental stewardship, and the acquisition of technical skills, email your cover letter and resume to Human Resources.
Applications from exceptional outdoor and wilderness-based educators, guides, field staff and program administrators are accepted on a rolling basis.
Human Resources
National Center for Outdoor & Adventure Education
9809 River Rd.
Wilmington, NC 28412
(910) 399-8090
(888) 399-5957 fax
hr@ncoae.org
NCOAE.org
---
---