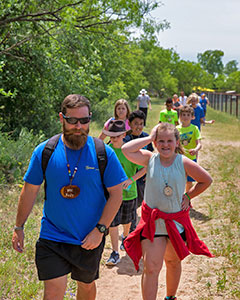 Outdoor Education Instructors
Outdoor Education Instructors are the heart of The Outdoor School and will teach pre-approved academic and adventure curriculum, facilitate team building and high ropes courses, and lead interesting evening activities. Three weeks of training will provide you with the necessary knowledge in academics, ropes course, and anything else you need to survive at TOS.
Although TOS has a selection of over 15 classes and activities that schools may choose from, most Instructors learn between 5 and 7 classes—enough to keep you excited about teaching, but not so many that you are overwhelmed.
2018 Season Commitment
• Spring: February to late May—Now Accepting Applications!
• Fall: August to mid/late November
After a successful season as an Instructor, you may have the opportunity to return for consecutive seasons. Second season Instructors will be expected to take up more responsibilities, learn to facilitate more academic and adventure courses, provide leadership to incoming Instructors, and help facilitate training.
Additional responsibilities include holding a leadership role throughout the season (training, off site excursions, evening activities, etc.), becoming a lead Instructor, and serving as The Outdoor School's representative for visiting schools.
Program Coordinators
The Program Coordinator position gives those passionate in the field the opportunity to learn more in depth about what it means to be on the administrative side of things.  Some of the basic duties include scheduling weekday schools and weekend retreats, managing and supervising Instructors, providing customer service and serving as Program Assistant.
Season Commitment
The position goes for a full school year length beginning in the fall and concluding in late-May, with an unpaid winter break in between.
"I was expecting an interim job to just pass the time, but what I got was an incredible experience and friends that I will never forget."