Short-Term Job Adventures Iowa
---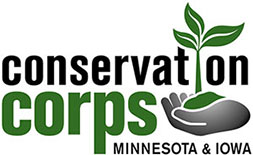 Crew Members/Leaders, Youth Outdoors Members/Leaders, Summer Youth Corps Crew Leaders and Individual Placements
Ames, Iowa as well as locations throughout Minnesota. The region is known for its spectacular wilderness: thousands of lakes, the beautiful north shore of Lake Superior, National Forest lands, and environmental policies that support land conservation.
Spend a season or year outdoors conserving natural resources, gain field experience, and make a difference! Conservation Corps can give youth and young adults practical and professional experience, train them for careers, and provide a stable income and an opportunity to pay for educational expenses. All of this while being outside in the beautiful states of Minnesota and Iowa. If you are highly motivated, a committed individual, passionate about habitat restoration and the outdoors, and want to work on a team of peers, build trails, learn how to manage wildfires or lead youth in conservation work, explore current job openings. Positions begin every February, March, May and July.
Employment Alert
• Conservation Corps is no longer accepting applications for the 2017 season. Stay tuned as they roll out positions for the 2018 season beginning this September/October.
Kellie Lager
Recruitment and Outreach Coordinator
Conservation Corps MN & IA
60 Plato Blvd., Suite 210
Saint Paul, MN 55107
(651) 209-9900, x31
recruit@conservationcorps.org
ConservationCorps.org
---
Male Summer Camp Counselors
Located on 400 acres of woodland in Eastern Iowa, Christian-based Camp Wyoming features bluffs, caves, Bear Creek and Frog Pond. Camp programs are offered for kids and youth in grades K-12, with traditional activities that include creek stomping, mud slides, archery, kayaking, canoeing, arts & crafts, challenge course, zip lines, caving, sports, swimming, hiking, Bible studies and more. The camp is located within an hour of Dubuque, Cedar Rapids and the Quad Cities.
Camp Wyoming is seeking male Summer Camp Counselors who are looking for experience working with children, speaking in front of and leading groups in a variety of activities, teaching skills and leading Bible studies. Because all Counselors have the chance to lead activities in addition to counseling, working at Camp Wyoming gives you a wide range of experiences, skills and opportunities. You are not limited to one type of care, age or activity. Positions run from May 22nd though August 6th (with a middle of summer break from July 2nd–9th). Staff are expected to work Sunday–Friday with designated time off during the week. If you have a passion for working with others through service, ministry and hospitality while seeking to make a difference in the world in which you live, fill out the online application or contact Stacie Hoppman for more information.
• Did you know? The community at Camp Wyoming is small and close-knit. 25 staff members are hired for the summer, which means that you will get to know everyone well. The friends you work with will be friends you keep for the rest of your life.
Stacie Hoppman
Director of Programs and Marketing
Camp Wyoming
9106 42nd Ave.
Wyoming, IA 52362
(563) 488-3893
stacie@campwyoming.net
CampWyoming.net