Working at Sanborn Western Camps is a rewarding opportunity to impact youth, build relationships and experience countless adventures. The days are full, the energy is high, and the fun is contagious.
As an a outdoor adventure residential camp in the Rocky Mountains of central Colorado, Sanborn Western Camps offers staff and campers the opportunity to grow as young men and women while climbing the highest peaks in Colorado, horse packing for miles, canoeing for days, mountain biking incredible terrain, living together in the outdoors, and enjoying endless memories with amazing people. The majority of summer staff include Counselors, Assistant Counselors and Wranglers, with program areas that focus on backpacking, mountain biking, rock climbing, horseback riding, canoeing, natural sciences, water activities, arts & crafts, drama, film, sports and much more. Additional positions include an Art Director, Registered Nurses, Photographers, and Program Coordinators that specialize in certain areas of camp. The base salary starts at $2,500 plus lodging, meals, laundry and pro deals. Additional certifications and experience can impact your salary. Two weeks of paid training focus are child development, backcountry skills, trip leading and program specific areas. Applicants must have experience with working in the outdoors and with kids. Experience in program areas and additional certifications are a big plus. All staff must make a commitment from May 30th through August 13th, 2018. Some staff may be asked to arrive earlier for specific trainings if available. If you are a positive role model, resilient, empathetic, hardworking, creative, selfless, flexible, adaptable and show initiative, learn more at SanbornWesternCamps.com.
• As a Sanborn summer staff member, you will have the opportunity to teach, learn, develop your leadership and technical skills, and influence the lives of children all while experiencing the grandeur of Colorado.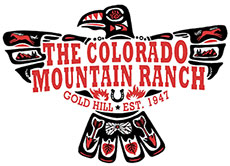 Owned and operated by the Walker family since 1947, the Colorado Mountain Ranch summer camp provides a warm, friendly environment where individual growth and learning occur through confidence-building activities in an active outdoor setting. Adventurous programming abounds at the Ranch, with everything from a challenge ropes course and mountain boarding to Western horseback riding, hiking, camping, gymnastics and trampoline, and two newer programs: Earth! (offering experiences in sustainable living) and Water! (providing excursions to pools, lakes and streams for splashing, swimming and boating). Summer staff are instrumental in creating and implementing every aspect of ranch programs and activities, facility use, food service, construction projects and maintenance. Every job—ranging from activity instructors and food service staff to counselors and wranglers—involves inspiring and guiding young people, participating enthusiastically in all daily activities and embracing the Native American philosophy of respect for self, others and nature. Depending on the position, first year staff members can earn $190-$250/week (plus a contract bonus), along with meals, housing, leadership training and, of course, living in the mountains for the summer! The summer 2018 camp season runs from May 29th with a week of orientation, followed by ten weeks of children's programs through August 12th. Applications are available for download online.
• Ready for a busy & diverse summer? Staff members at the Colorado Mountain Ranch will also be attending to the details of special events and parties, mountain wedding receptions, group horseback rides, and facilitating challenge groups on the ropes and mountain boarding courses.
Located in the San Juan Mountains of southwest Colorado, family-owned Colvig Silver Camps is a residential, wilderness-oriented camp that blends traditional summer activities with overnight backcountry adventures. An environmentally oriented and non-competitive philosophy coupled with a choice-based format is designed to develop self-esteem, leadership skills, responsibility and teamwork. Camp activities include (but are never limited to) day hikes, field games, arts & crafts, western horseback riding, target sports, swimming, rock climbing, ropes/challenge course, environmental activities, campfires, songs, skits, cookouts and more! Wilderness trips include desert and alpine backpacking, mountain climbing, mountain biking, Anasazi ruin exploration, canoeing and rafting. Summer job opportunities include Program Coordinators, Arts & Crafts Coordinator, Rock Climbing/Ropes Course Coordinator, Expedition Coordinator, Pathfinding Instructors, Wranglers, Head & Assistant Counselors, Cooks & Prep Cooks, Registered Nurse, and a Photographer. Benefits include a summer salary of $1,900 to $3,080, room and board, laundry, pro-deal purchases for outdoor gear, comprehensive staff training, and Wilderness First Aid certification. 2018 positions begin as early as May 15th with staff training from June 1st-10th, a mid-summer break from July 9th-11th and work through August 11th. If you have a passion for working with children in an outdoor setting and a commitment to the development of positive, meaningful relationships, read the staff FAQs, fill out the online application or connect with Tyler Dixon for more information.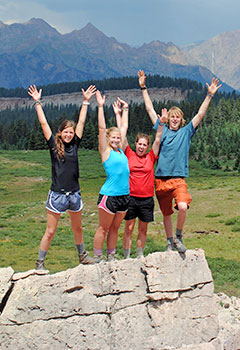 • Creative. Tireless, Patient. Flexible. Positive Attitude. Fun-Loving Spirit. Sense of Humor. Responsible. Sound like you? Colvig Silver Camps seeks these key attributes in its summer staff.