Spend a summer with amazing people! Since 1921, family-owned Cheley Colorado Camps has been welcoming young people for an enriching, adventurous and value-centered camp experience during the summer months. Cheley facilities include horseback riding rings, craft centers, on-site climbing inside and out, a ropes course and a fleet of mountain bikes. Beyond the facilities are miles of trails into the surrounding park and forest. Whether as a support staff member (barn crew, office team, kitchen team, photographers) or as a program counselor (riding instructor, hiking and backpacking guide, crafts counselor), more than 200 summer staff are hired each year. Summer 2015 kicks off with 8-10 days of staff training that includes exposure to professionals in the fields of child development, forests and parks, psychology and wilderness medicine. Employment is a 9-week commitment from early June to mid-August; opportunities are also available as early as mid-May through the end of October. Benefits include room, board, a base salary of $2,000+, a travel allowance and a completion of contract return travel stipend of $200. All counseling staff must be at least 19 years of age and have current certification in CPR/first aid. Backpacking, hiking and horseback riding counselors are also required to have Wilderness First Aid certification, which is offered before camp staff training. Apply online now!
• A summer at Cheley will push you to grow. The mountains will give you perspective and help you clarify long-term goals. Most importantly, you'll have fun with great people. The combination is rare, the experience extraordinary.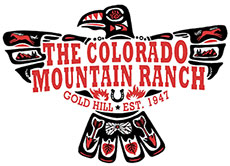 Owned and operated by the Walker family since 1947, the Colorado Mountain Ranch summer camp provides a warm, friendly environment where individual growth and learning occur through confidence-building activities in an active outdoor setting. Adventurous programming abounds at the ranch, with everything from a challenge ropes course and mountain boarding to Western horseback riding, hiking, camping and two new programs Earth! (offering experiences in sustainable living) and Water! (providing excursions to pools, lakes and streams for splashing, swimming and boating). Summer staff are instrumental in creating and implementing every aspect of ranch programs and activities, facility use, food service, construction projects and maintenance. Every job—ranging from activity instructors and food service staff to counselors and wranglers—involves inspiring and guiding campers, participating enthusiastically in all daily activities and embracing the Native American philosophy of respect for self, others and nature. Depending on the position, first year staff members can earn $150-$250/week (plus a contract bonus), along with meals, housing, leadership training and, of course, living in the mountains! Seasonal job opportunities are available from mid-May through October 1st. Applications are available for download online.
• Ready for a busy & diverse summer? Staff members at the Colorado Mountain Ranch will also be attending to the details of special events and parties, mountain wedding receptions, group horseback rides, and facilitating challenge groups on the ropes and mountain boarding course.
Located in the San Juan Mountains of southwest Colorado, family-owned Colvig Silver Camps is a residential, wilderness-oriented camp that blends traditional summer activities with overnight backcountry adventures. An environmentally oriented and non-competitive philosophy coupled with a choice-based format is designed to develop self-esteem, leadership skills, responsibility and teamwork. Camp activities include (but are never limited to) day hikes, field games, arts & crafts, western horseback riding, target sports, swimming, rock climbing, ropes/challenge course, environmental activities, campfires, songs, skits, cookouts and more! Wilderness trips include desert and alpine backpacking, mountain climbing, mountain biking, Anasazi ruin exploration, canoeing and rafting. 2015 summer job opportunities include Program Coordinators, Arts & Crafts Coordinator, Rock Climbing/Ropes Course Coordinator, Expedition Coordinator, Pathfinding Coordinators, Wranglers, Head & Assistant Counselors, Cooks & Prep Cooks, Registered Nurse, and a Photographer. Most positions begin on May 30th for staff training and continue through August 9th, with a three-day, mid-summer break in July. Benefits include a summer salary of $1,800 to $2,300, room and board, laundry, pro-deal purchases for outdoor gear, comprehensive staff training, and Wilderness First Aid certification. If you have a passion for working with children in an outdoor setting and a commitment to the development of positive, meaningful relationships, fill out the online application or call (800) 858-2850 for more info.
Summer 2015 Jobs
• Colvig Silver Camps will begin accepting applications for summer 2015 positions beginning this December.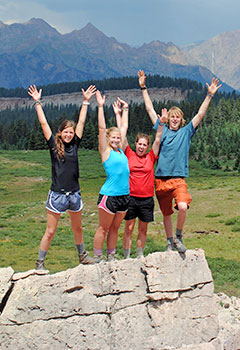 • Creative. Tireless, Patient. Flexible. Positive Attitude. Fun-Loving Spirit. Sense of Humor. Responsible. Sound like you? Colvig Silver Camps seeks these key attributes in its summer staff.